A Trump-inspired terrorist who claimed to have a bomb outside the Library of Congress turned himself in after law enforcement officials cut his Facebook livestream.
Trump inspires a new act of terrorism in Washington, DC
Video:
Trump terrorist who claimed to have a bomb in DC turns himself in after police cut off his Facebook live stream. https://t.co/0vMmpbMdx3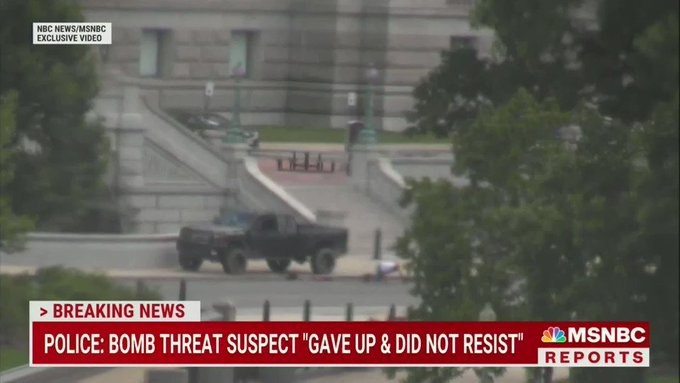 NBC's Pete Williams reported:
Obviously he wanted attention to it appeared because he was parked the car up there and called 911 self. So, you know, he wanted that Attention, and they cut off his Facebook feed at the system point, and he broadcast live talk and show video of his cell phone today on Facebook. Facebook cut that off. Maybe that was someone else Factor that just made him Decides to give up on his own.
And as the boss just said, he didn't fight back and we took him with us in custody and he's in now the Capitol Police Detention Center. The boss said they had identified he got it pretty early on and iided him quickly and he said in the Facebook rant that he was having trouble getting well take care of himself and his wife and that's one of the things that made him upset about it the government and he had a lot other anti-government Rhetoric and that's it Chief was referring to Comments there, and the lucky ones Thing is that the patience of the authorities have paid off here, and he just presented himself.
How many more terrorist attacks will Trump inspire?
It's great that this person surrendered peacefully, but the uprising that Trump started on January 6th is not over yet. In the case of the Library of Congress, the suspect called for President Biden to step down during his Facebook livestream.
Trump is no longer in office, but he is still fueling the domestic terror threat by repeating his lies about the 2020 elections. Fox News also has some responsibility as it continues to give Donald Trump airtime.
Today's Trump terrorist just wanted attention. The nation may not be as lucky next time around, which is why Trump and his indigenous terrorist cell disguised as a political movement must be held accountable.
Mr. Easley is the managing editor. He is also the White House press pool and congressional correspondent for PoliticusUSA. Jason has a bachelor's degree in political science. His thesis focused on public policy with a specialization in social reform movements.
Awards and professional memberships
Member of the Society of Professional Journalists and the American Political Science Association