Senator Joni Ernst was hit by a bloody fact check after attempting to claim President Biden had shown no gratitude to the troops.
Video:
Here is the infamous video of Senator Joni Ernst who sincerely lied and claims that President Biden did not thank the troops. https://t.co/PII0VA9rA3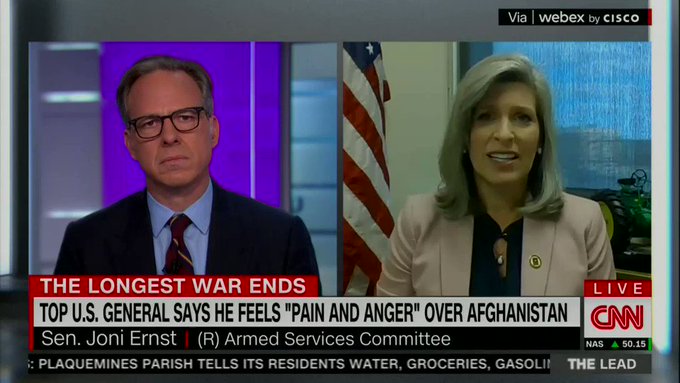 To his credit, CNN's Jake Tapper must have verified and corrected the facts, but Senator Ernst refused to admit the reality.
CNN's Daniel Dale pointed out how wrong Ernst was:
Ernst's claim is nowhere near true. Biden thanked the troops who have served time and again in Afghanistan and Iraq – expressly saying "thank you" and expressly saying that the nation is grateful and indebted to them. Biden has also spoken empathically about the sacrifices these service members and their families have made.
Biden's public words as President so clearly contradict Ernst's assertion that we don't even need to review his facts about his eight-year tenure as Vice President – during which he repeatedly expressed his appreciation for troops who had served or were still serving in and in Afghanistan Iraq.
When Dale faced the facts with Ernst's office, they denied the reality and fought with him.
Anyone who has tried to have a factual discussion with a Trump supporter knows exactly how the conversation ended. The fact checker asked about the testimony. Ernst's office said the statement was true and they respond with feelings and opinions instead of facts.
Ernst was beaten into an absurd lie, but instead of accepting reality in any way, she and her office retreated to a fantasy land where facts are irrelevant and only their opinion counts.
Mr. Easley is the managing editor. He is also the White House press pool and congressional correspondent for PoliticusUSA. Jason has a bachelor's degree in political science. His thesis focused on public policy with a specialization in social reform movements.
Awards and professional memberships
Member of the Society of Professional Journalists and the American Political Science Association